SURF coffee table
for ignore - 2020
The asymmetrical design of the SURF coffee table gives the table a different view from every angle.

Seen from the top, both legs are almost invisible and make the tabletop float in the room.
Exclusively designed for ignore.
Dimensions: 52 x 110 x 25 cm (W x D x H)
4 mm powder coated steel.

ignore - stay horny for design.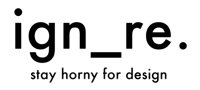 For more information or to buy the SURF coffee table online visit: ignore

Use the contact form to get in touch with me.

3D Warehouse - SketchUp
Like to add the SURF to your project?
Download the 3D file here.