Stitch side table
for Odesi - 2018
Odesi challenged me to think of a side table you could play around with, a family with an 'edge'. That became the Stitch; a table with an asymmetrical frame that embraces the tabletop on one side, dividing it.
You can stack or overlap them which gives you lots of options. The marble tray is my favorite!
The tabletops come in two flavors; beautifully grained ash and slick Fenix (mat black) all with their own edge finish.

The main idea is mix and match. Combine a rectangular ash table with a round Fenix table and finish it with a marble tray.
Visit www.odesi.nl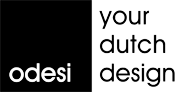 The STITCH side tables are exclusively available at Odesi.

If you have any questions, please use the contact form to get in touch with me. I'm willing to help you obtain your Stitch for your home or office.

Download the Odesi brochure here

3D Warehouse - SketchUp
Like to add the Stitch to your home or project?
Download the 3D file here.