Branch dining table
for Odesi - 2011
This dining table is made with beautiful craftsmanship. The Branch tabletop seems to float above the legs. All steel parts are black oxidized to protect them and to give them a nice mat finish.

The Branch table is made from European Oak. Oak is a very strong and long lasting wood. The wood used for the Branch is dried and processed professionally. Branch has a modern look through the fine surface finish.
Available in the color 'Mist'. The Branch comes in two different sizes. On request, custom color finishes and table lengths are possible.

Dimensions: 240 or 300 x 100 x 75 cm
Material: European Oak
color 'Mist'
Year: 2011
For Odesi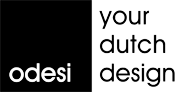 The BRANCH table is exclusively available at Odesi.

If you have any questions, please use the contact-form to get in touch with me. I'm willing to help you obtain your Branch.

Download the Odesi brochure here

3D Warehouse - SketchUp
Like to add the Branch to your home or project? Download the 3D file here.